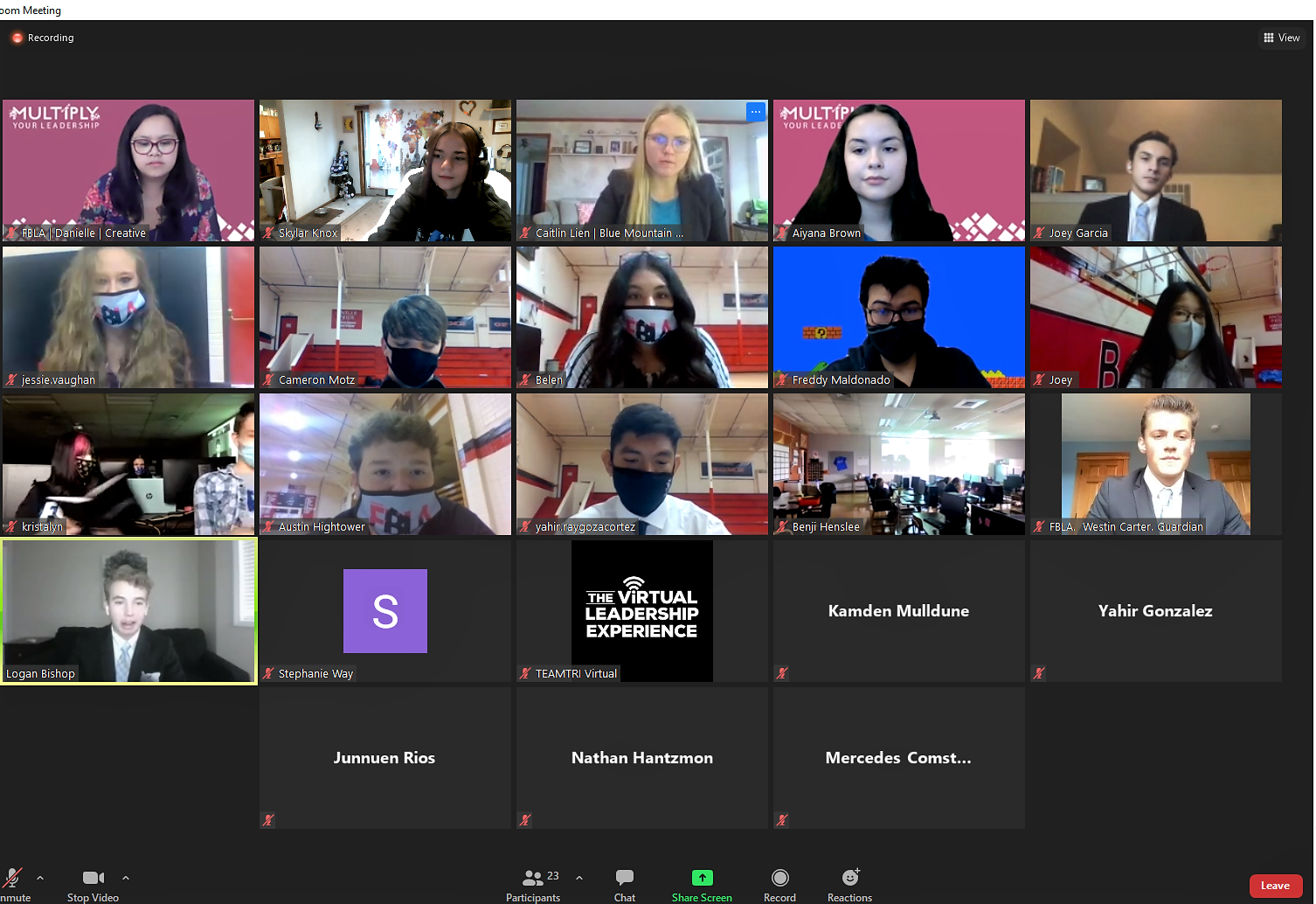 On Wednesday, November 18th Oregon's Future Business Leaders of America (FBLA) attended the Fall Virtual Leadership Experience. This event was organized by TeamTri, GIANT, and the Department of Education for career and technical student organizations from Oregon. During the conference, students got the opportunity to listen to inspiring speakers, engage in leadership conversation, participate in trivia showdowns, and earn prizes. Two Fremont FBLA members and thirteen Roseburg FBLA members participated, including three state officers attended.
The event started with a presentation from Scott Cornelius about how to multiply your leadership. In this, he talked about how you have to know yourself to lead yourself. Once you can lead yourself you can lead others. As a leader, it is your responsibility to help others grow into leaders as well.
Next, the attendees learned about how to determine their leadership voice and how to respect others'. The 5 leadership voices were created by GIANT. Leadership voices consist of the following: Nurturer, Creative, Guardian, Connector, and Pioneer.
Nurturers want everyone to be included and happy. These are the people who are always checking in to see if you are ok. However, they have a fear of conflict.
Creatives are always thinking about the future. They are innovative and have integrity. They are always thinking outside of the box. They tend to be perfectionists and feel like everything and everyone can be better. "Can't" is not a word in their vocabulary.
Guardians are always following the rules. If you are going to do something they will have a plan. If things are moving steadily they may think there is no reason to improve. Guardians are always asking questions and giving critiques. They may come off a little aggressive but they have good intentions.
Connectors are good at communicating with others. They are very resourceful and are people-pleasers. They are good at coming up with ideas. However, they don't take critique well and take it personally.
Pioneers are critical thinkers and problem solvers. They are very competitive and have no regrets. They have drive, leadership, and good communication skills. When they have an idea they pursue it. They can seem arrogant or insensitive at times. Around 7% of all people are Pioneers.
Aiyana Brown, FBLA Rogue Umpqua Region Vice President, who attended the event discovered that her leadership voice was Pinoeer/Guardian. She stated, "I definitely agree that my voice is Pinoeer/Guardian because pioneers are the leaders, and guardians are very analytical, and they question everything."
Then, the participants each joined a group where they discussed the benefits of their chapter and prepared for trivia. Everyone came back to the group and started a trivia game. They were asked questions related to business and general knowledge.
Next, Scott Williams, an author, spoke with the group about how to accomplish goals and how to lead, not manage. In this, he said, "Great leadership is less about the leader and more about the ship." He spoke about how when faced with conflict, leaders treat it as an asset, while managers treat it like a liability.
Lastly, the participants went into a session about how to have influence and impact and prepare for a final trivia showdown. Students were given a lot of information about how to be more effective leaders. The Fall Virtual Leadership Experience was enjoyable and educational for the participants! Brown said, "FBLA's Fall Leadership Experience was definitely both educational and enjoyable. During the conference, members and officers listened to professional keynote speakers, who showed us how to grow our leadership voices to better communicate and work within a team. We also competed in multiple trivia showdowns, where we learned facts about FBLA and many leaders throughout history: for example, Ruby Bridges, the first Black student to desegregate an elementary school in the south, and Yuri Gagarin, the first person in space. During COVID-19, students don't have as much face-to-face interaction, so being able to host a virtual conference was an amazing experience for all parties involved. I, and all of the other state officers, met members from every CTSO in Oregon, which is truly invaluable. It was the first time we got to connect with other people from our organization — and with all of the games, trivia, and motivational speakers, it was the most fun I've had in a while!"
Fremont Middle School is working to establish an FBLA Chapter. If your child is interested, sign up here: https://docs.google.com/forms/d/e/1FAIpQLSeVVum_zY4pACZR1habDFoAaKyizl_FAnZNkjAST09F27veIg/viewform?usp=pp_url