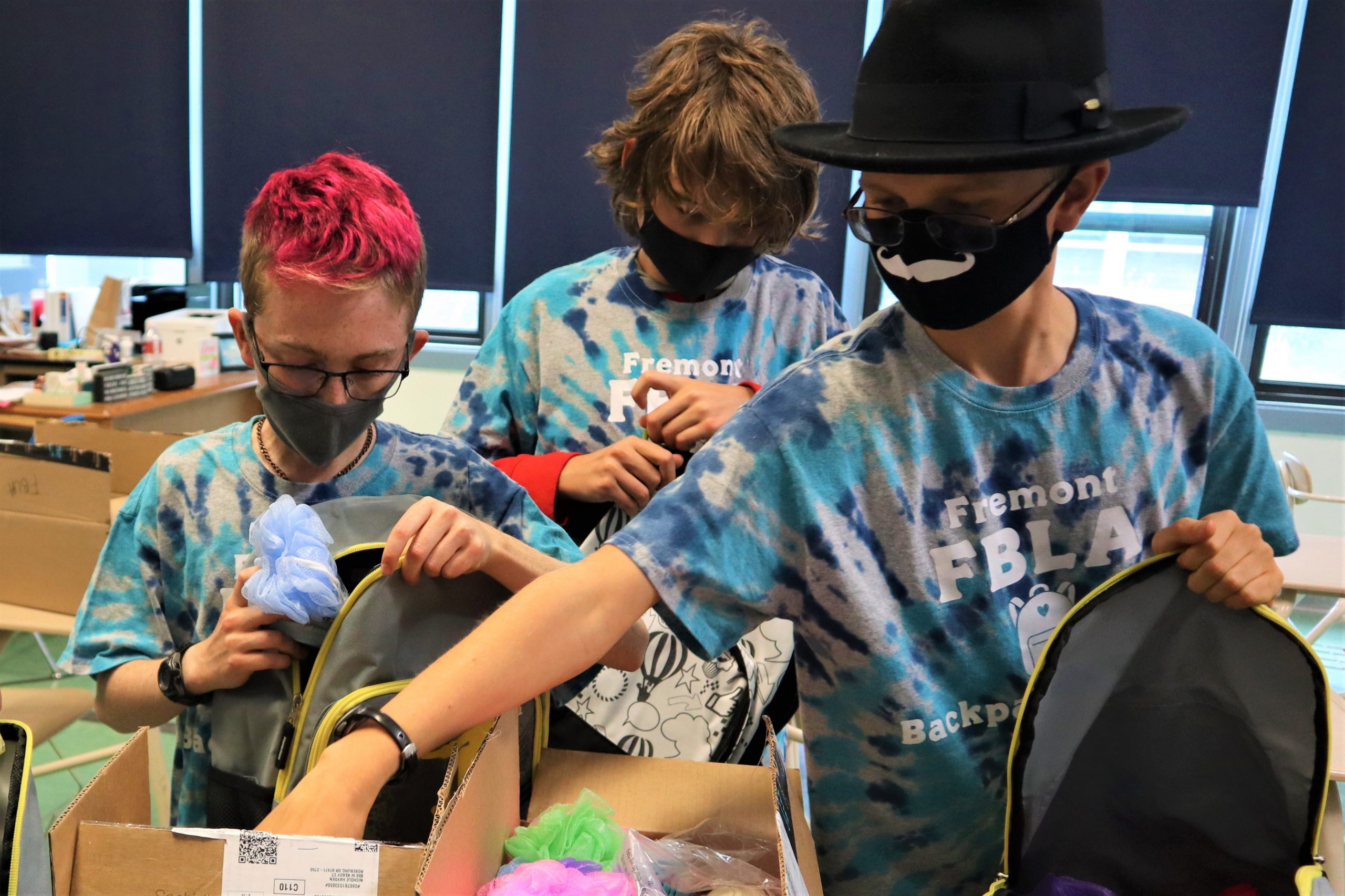 Leo Gimbel, 8th grader, (left), Ethan Williams, 6th grader, (middle), and Hayden Weir, 7th grader (right)loading up backpacks with bath puffs and socks for foster children on Tuesday.
John C. Fremont Middle School's Future Business Leaders of America (FBLA) delivered over 60 backpacks to the Child Welfare division of the Oregon Department of Human Services on Tuesday.
The project called "Backpacks 4 Kids" was the group's last community service project of the school year. Fremont FBLA decided that they wanted to do something for foster kids in their community, so they packed backpacks full of items. The bags included socks, soap, bath puffs, toothpaste, a toothbrush, and a book.
The bags were delivered just in time for the organization to hand out during their Resource Family Event.
Karen Parker, social services assistant case aide for certification/foster parent liaison for the Oregon Department of Human Services, said, "Once a year usually in May we put together an event where we show our appreciation to the Resource families."
This year's event was held as a drive thru event at the Wildlife Safari. "Resources families that attended were provided a gift for the children and the Resource parents received a gift basket. Our local Every Child organization provided them with a prepackaged meal. Wildlife Safari also gave them the opportunity to go thru the drive thru at no charge during the event, " said Parker.
Fremont FBLA strives to give back to the community and cause positive change. Foster kids are in a situation out of their control and Fremont FBLA is hoping that the bags will help bring a little comfort during a difficult time.
Seventh grader Chloe Garcia said, "I enjoyed putting together the backpacks because I know they are for a good cause and will be given to kids in need."
The group went around to local businesses collecting items and cash donations. Eighth grader Leo Gimbel, "I feel grateful for all the people who supported us."
If you are interested in learning more about Fremont FBLA, visit fremontfbla.org.
As of May 1 there were 355 kids in foster care in Douglas County.
"Foster care is a temporary living arrangement for children who need a safe place to live when their parents or guardians cannot safely take care of them," said Parker. "We believe that foster care should always be the last possible and temporary option for a child and family when there is a child safety concern. The trauma inflicted on a family by separating them during foster care needs to be carefully considered. If foster care is necessary, reunification should be the primary goal."
Kids in foster care have the same needs as every other child.
"Foster children need compassion, patience, and empathy from their caregivers," Parker said. "They need advocacy and support around the trauma they've experienced. They need encouragement, and supportive adults who understand there is grief and loss due to being temporarily separated from their parents and families."
Parker enjoys working with the department. She said, "The best part of working at child welfare is being a cheerleader for parents and children and helping them succeed to get their families back together. I also have the wonderful opportunity to work with our Foster Parents and our great local community partners. I work with Mercy Foundation, The TLC committee, CASA, and ECHO to name a few. We have great businesses in the community that I also work with around Christmas that provide gifts for our foster children. I really love our community and the businesses are very giving."
Fremont FBLA created the backpacks for slightly older kids. Roughly one-third of the children in foster care are pre-teens and teens.
"We are always in need of foster parents for our teens and pre-teens, families to wrap support around our youth, help them to stabilize in order to prepare for the transition home, or their transition into adulthood," Parker said. "We also know resilience is built through all kinds of different relationships. When youth have even one supportive adult in their life, it can make a world of difference."
There are lots of ways people can invest in some of our most vulnerable youth. Parker said, "For those who are able to temporarily open their homes and their families to youth in need of safety and stabilization, foster parenting may be just the thing."
There are also opportunities to serve and volunteer through our local CASA program and Every Child. Visit https://everychildoregon.org/myneighbor/ for more information.
Parker said, "Whether it be a neighbor, friend, relative, or a member of our community, we can make a big difference by reaching out and helping the families around us."
Chloe Garcia, 7th grader, (front), Hayden Weir, 7th grader,(middle), and Leo Gimbel, 8th grader, (back) loading backpacks for foster children on Tuesday.
Leo Gimbel, an 8th grader, adding books to backpacks for Fremont FBLA's latest community service project.
Ryne Wilson, 7th grader, helping get the backpacks ready for foster children.